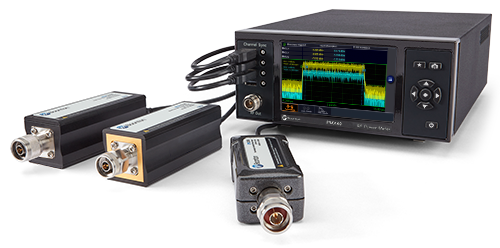 The new Boonton PMX-40 RF Power meter provides design engineers and technicians the utility of traditional benchtop instrument, the flexibility and performance of modern USB RF power sensors, and the simplicity of a multi-touch display built with Boonton award-winning technology. The PMX40 RF-powermeter can be used in combination with all the USB powerheads of Boonton.
The Boonton PMX40 Power Meter utilizes Boonton RTP4000 Real Time True Average, RTP5000 Real time Peak Power and the CPS2000 True Average families of USB RF power sensors with industry leading performance and capabilities. All RTP sensors incorporate the unique Boonton Real-Time Power Processing™ technology, which virtually eliminates gaps in measurement suffered by other power sensors and enables industry best measurement speeds.
Quick Features
Capture/display/analyze peak and average power
Frequency range from 4 kHz to 40 GHz
Industry-leading video bandwidth (195 MHz) and rise time (3 ns)
Industry-leading 100,000 measurements per second
Industry-leading time resolution as fine as 100 ps
Synchronous multi-channel measurements (up to 4 channels)
Sensors can be used as standalone instruments
More information
Vistit the the PMX40 RF Power Meter webpage or contact us for more information.